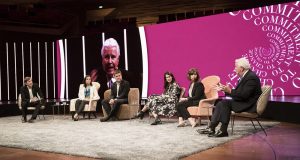 Global Names Sign Up To Circular Fashion System By: Garry Knox
Global brands including H&M, Adidas and Marks & Spencer have signed up to a The Call to Action for a Circular Fashion System at the recent Copenhagen Fashion Summit presented by Global Fashion Agenda, the summit organisers.
Earlier in the week, ahead of the Summit, Global Fashion Agenda, in collaboration with the Boston Consulting Group, published an in-depth assessment of the fashion industry's environmental and social performance – the first edition of the Pulse of the Fashion Industry report.
The 139-page report shows that there is still long way to go in terms fashion sustainability, scoring a mere 32 out of 100 points; small and medium-sized firms, which represent about half of the market, have done little to improve their performance. The report is the first of its kind to ever use data from the HIGG Index, the world's leading standard in measuring sustainability performance crated by the Sustainable Apparel Coalition, of which GreenEarth is a member.
The summit's nine-hour programme was kicked off by sustainability leader and co-founder of the Cradle-to-Cradle movement, William McDonough, who proclaimed that "being less bad is not being good". The nine-hour programme also included more than 50 high level speakers, including,  circular economy authority Dame Ellen MacArthur and Hugo Boss CEO Mark Langer.